The LexisNexis® ASPIRE Program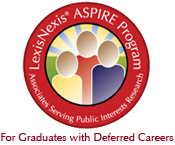 With the current economic conditions, some law students may be experiencing delays in starting their law firm careers. In response to this situation, and in support of our Rule of Law initiative, we at LexisNexis
®
are launching a new program which will enable students who pursue public service during the deferral of professional practice to access certain LexisNexis services free of charge.
The LexisNexis® ASPIRE (Associates Serving Public Interests Research) program allows qualified graduates to access a specified menu of LexisNexis services during the deferral period. To be eligible for continued LexisNexis access, graduates must have accepted an Associate position at a law firm, but 1) experiencing a deferred fall 2009 start date, and 2) taking on public interest work during their deferral period.
Qualified students may register at www.lexisnexis.com/aspire to acquire access. Upon confirmation of eligibility, we will allow them to continue using their law school student IDs to access a robust menu of materials to capably support their public interest research.
Some of the greatest minds throughout history have been motivated by public service. We applaud new graduates that elect to pursue public interest work while waiting for their professional law firm practices to begin.
For more information about the LexisNexis® ASPIRE Program, go to www.lexisnexis.com/aspire.